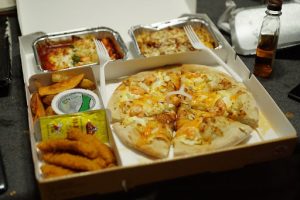 Want to know all about the best food delivery service? Then check out these Deliveroo statistics. Before that, we'll begin with a little overview of what Deliveroo is all about.
Deliveroo is an online food delivery service. It plays the role of an intermediary between the producers, as in restaurants that prepare the food, and the consumers.
The food is delivered to customers in their homes, offices or at any location of their choice by contract drivers hired by Deliveroo. 
Then, customers can place their orders in restaurants that are in close proximity to them on the Deliveroo app or directly on their website.
Note that Deliveroo does not prepare any of the food themselves. They just handle payments and delivery.
The company strives for a unique efficiency in food delivery and reduces customer waiting time with their excellent delivery service. Little wonder it ranks as one of the biggest food delivery companies in the world. 
Let us now delve in some amazing Deliveroo statistics.
When Was Deliveroo Created?
Will Shu created Deliveroo in 2013, alongside Greg Orlowski. Will a banking analyst, and Greg a developer. 
Productmint reveals that the company was created to solve the problem of lagging delivery options. Will Shu himself was the first driver who delivered food for the company. 
The headquarters of the Deliveroo company is in London, United Kingdom. 
Deliveroo Statistics: Number of Users
According to Expanded Ramblings, as of January 2022, the Deliveroo food delivery service recorded over 8 million monthly active users.
Analysis from Similarweb puts the number of monthly visits at about 9 million with a bounce rate of about 35%. 
Business of Apps gives us a year by year rundown of number of users of Deliveroo:
2017: 3.1 million users
2018: 3.9 million users
2019: 6 million users
2020: 7.1 million users
2021: 8 million users
Number of App Downloads
According to Statista, Deliveroo was the second most downloaded food delivery app in the UK as of 2021 as it recorded about 5 million downloads that year.
Also, Net Imperative reveals that the global pandemic of 2020 saw a great increase in the downloads of food delivery apps with Deliveroo recording about 7 million downloads globally.
Amazing right? Google play store shows that currently, Deliveroo app downloads are over 10 million.
Deliveroo Statistics:User Growth Rate History 
Ever since it was created in London in 2013 by Will Shu and Greg Orlowski, Deliveroo has grown in an unprecedented fashion. 
According to Productmint, by 2015, just two years after it had launched, Deliveroo had grown to onboard over 1,500 restaurants in eight cities in the UK.
Over the years the company also saw some setbacks. In 2016, contract drivers of Deliveroo took the company to court several times. Also 2016 saw the quiet exit of cofounder Greg Orlowski from the company. 
Then in 2019, the company shut down their branches all over Germany. Around mid 2020, the company also had to lay off about 15% of their staff to remain in business.
News came in 2018 how Uber was set to buy Deliveroo though it didn't pull through. Also, Amazon set plans in motion to invest in Deliveroo in 2019, funds of about $575 million, though this was delayed, it finally came through in 2020.
Through it all, the company still managed to grow and expand. As of today, Deliveroo operates in about 800 cities in 12 countries.
According to Business of Apps, Deliveroo works with over 160,000 restaurants in over 800 cities serving over 8 million customers.
Deliveroo Statistics: App Rankings 
Analysis from Similarweb shows that Deliveroo ranks #3 in the 'food and drink- restaurants', and 'delivery app' category in the UK. It's website ranks #2 in 'restaurants and delivery category' in the UK. 
Here are some rankings in other countries:
In France, it ranks #4 in the food and drink category 
In Australia, it ranks #8 in the food and drink category
In Hong Kong, it ranks #4 in the food and drink category 
In Italy, it ranks #2 in the food and drink category 
In Belgium, it ranks #4 in the food and drink category 
In the Netherlands, it ranks #12 in the food and drink category 
This data applies to rank in 'top free app' in the 'food and drink category' for iOS users.
Source: Similarweb
App Ratings
The Deliveroo app received a 4.6 out of 5 star rating on Google play store after over 750,000 reviews. 
It also received a 4.7 out of 5 star rating on the Apple app store after over 120,000 reviews.
User Demographics 
Deliveroo Is Available in Which Countries?
These countries include Italy, Spain,Hong-Kong, Belgium, France, United Kingdom, Ireland, Australia, Singapore, Kuwait and the United Arab Emirates. 
Deliveroo Statistics: Website Traffic Sources
United Kingdom: 96.49%
United States: 0.70%
France: 0.23%
India: 0.20%
Others: 2.20%
From the statistics above, we can conclude that the United Kingdom sends the highest traffic to the Deliveroo website.
Source: Similarweb 
Gender Distribution 
Analysis from Similarweb shows the percentage audience of Deliveroo by gender:
Males contribute 54.65%
Females contribute 45.35%
Age Distribution 
The following shows the percentage usage of Deliveroo by age groups(on desktop):
| | |
| --- | --- |
| Age  | % Usage |
| 18-24 | 26.67% |
| 25-34 | 34.75% |
| 35-44 | 17.11% |
| 45-54 | 11.65% |
| 55-64 | 5.86% |
| 65+ | 3.96% |
Source: Similarweb
How Does Deliveroo Make Money?
According to Productmint, Deliveroo makes money through the following sources
Deliveroo Revenue 
Deliveroo generated a total of about £1.8 billion in revenue in 2021, a 50% year-on-year increase. Let's look at a year to year rundown of revenue generated:
| | |
| --- | --- |
| Year | Revenue |
| 2015 | £18 million |
| 2016 | £129 million |
| 2017 | £277 million |
| 2018 | £476 million |
| 2019 | £771 million |
| 2020 | £1.2 billion |
| 2021 | £1.8 billion |
Source: Business of Apps
Deliveroo Management Team
Meet the executives behind Deliveroo:
Will Shu. Founder/CEO 
Rohan Pradhan. Chief Advisor to CEO
Hadi Moussa. Chief Business Officer International 
Eric French. Chief Operating Officer
Development Mishra. Chief Product and Technology Officer 
Chantelle Zemba. General Counsel 
Carlo Mocci. Chief Business Officer UK&I
source: Deliveroo
Conclusion 
Whether in the comfort of your home, or at work in your office or to supply in bulk at an event, Deliveroo has got your orders covered.
It is glaring from the statistics above that the app is reliable. Worry no more about where or how to grab a bite. Deliveroo's efficiency will leave you thoroughly satisfied.